How Do I Use My Ebt Card
Can I Get Food Stamps if I'm Living with Someone? – Your EBT Questions Answered!
You can use your EBT card in any grocery store or retail location in the United States that displays the Quest Mark® logo or online at approved locations. Your EBT card will work much like a debit card, and you will have a PIN number you will need to enter. It is important that you keep your EBT card and PIN number safe and secure at all times.
You cannot use your SNAP benefits to buy:
Alcohol or tobacco
Hot prepared foods or foods prepared to be immediately eaten
Vitamins, medicine, supplements
Maximum Payout Family Contribution = Your Monthly Food Stamp Payment
Depending on how many people live in your household determines your maximum payout. The more people in the household the higher the maximum payout.
Below is an example of maximum monthly payouts for food stamps:
1 in household = $192 max
2 in household = $353 max
3 in household = $505 max
4 in household = $642 max
5 in household = $762 max
6 in household = $914 max
7 in household = $1,011 max
8 in household = $1,155 max
Each additional person past = $144
Take your Family Contribution and subtract it from your maximum payout for your household size. Whats leftover from this is your monthly food stamp payment.
How Do I Apply For Snap
There are several options for applying. Only one member of the households needs to apply for the total household, but everyone living in the household needs to be included on the application along with their income. Most states provide an online application to start the process. See the States website section for a link to your states website. If your state does not provide an online application or you do not have access to a computer, you can go to your local state or county office to apply.
As part of the application process, you will need to go to your local state or county office for a face-to-face interview. If you are not able to go to the local office or apply online, you can designate an authorized representative. This is someone you give authority to represent you. You have to designate the person in writing to be official. This person can be a friend or relative.
The entire process generally involves filling out an application, going in for a face-to-face interview, and providing verifications for needed information such as income, residency, and expenses. If because of age or disability, an applicant is unable to go to the office and cannot appoint a representative, the interview may be waived at the discretion of the local office. However, if the interview is waived, the applicant will have to have a phone interview or consent to a home visit instead.
You May Like: Apply For Food Stamps Lexington Ky
Where Can I Find A Food Stamps Application
Once petitioners feel that they are prepared to submit a food stamps application, they must obtain the necessary forms. In most cases, claimants may apply for food stamps:
On their states web portals. States offer applicants the option to apply for food stamps online. With these venues, candidates are brought to a web page where they can digitally fill in all of their information and submit their applications without leaving the site.
Similar to the option above, claimants who wish to access their SNAP food stamps applications online can oftentimes find PDFs of these forms on their state websites. However, unlike the previous option, candidates who utilize this choice are then responsible for printing and filling out their applications by hand. Then, petitioners generally must fax, mail or hand deliver these claims to their SNAP departments.
SNAP offices keep applications in their offices, and workers distribute these forms to requestors. In this scenario, candidates are offered a paper form, which they may either file right there in the office or take home and return using the methods illustrated in the second option.
Food Stamp Income Requirements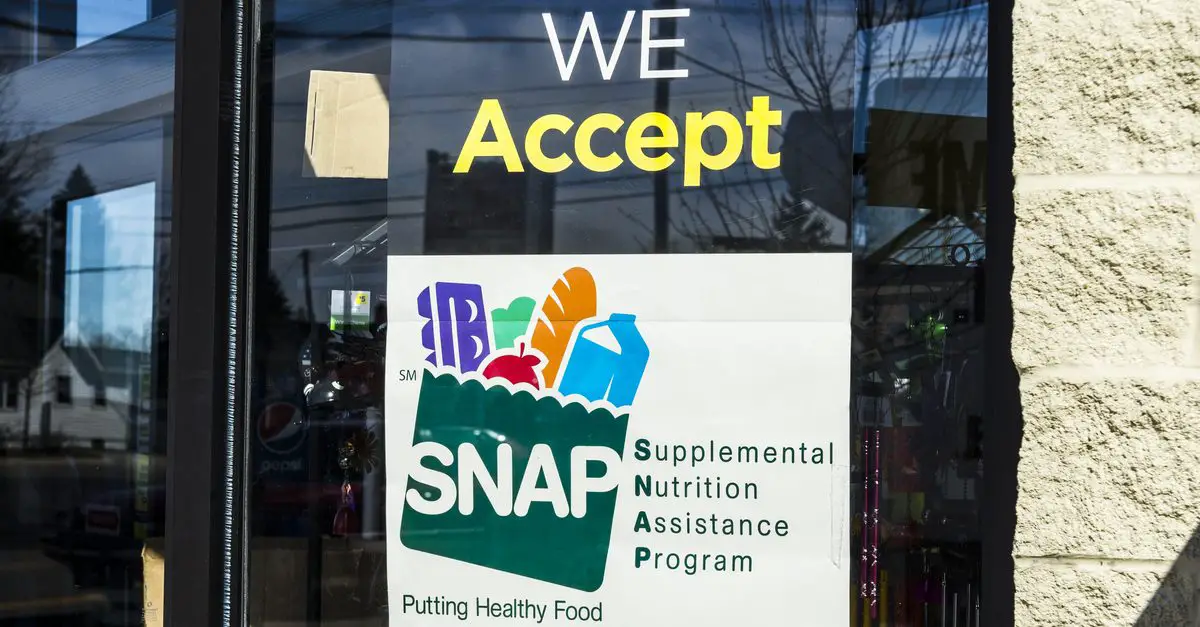 The SNAP program has eligibility standards for both gross and net monthly income. Most people will need to fit within both the gross and net income guidelines in order to be eligible. Exceptions to this include the elderly. For households including at least one person over the age of 60, only the net income standard is applied. Another exception is those receiving TANF and SSI.
The table below shows the maximum gross and net monthly income based on family size for SNAP eligibility. The gross income is the income you make prior to any deductions. Net income is after deductions. The only exceptions to the chart below are Alaska and Hawaii, which have higher income limits due to the significant increase in cost of living.
Read Also: Local Food Stamp Office Phone Number
The Law Establishes A Maximum Food Stamps Allotment
However, youll never receive more than the legal maximum allotment for food stamps. This amount is determined by law but varies by year.
This is the maximum monthly benefit table for 2018 for the contiguous 48 states. There are different income limits for people who live in Alaska, Hawaii, Guam and the Virgin Islands.
Household Size
Each Additional Person
$144
As you can see, the estimated average monthly benefit is usually much smaller than the maximum monthly benefit. As the household size increases, the gap between the average and maximum only gets bigger!
Of course, this is largely because of income. The Supplemental Nutrition Assistance Program expects families to contribute 30% of their net income on food. Only families with no income whatsoever will receive the maximum monthly benefit.
How Long Will I Get Help
You can get SNAP benefits for as long as you are eligible for help. You will be required to complete a mid-certification and a recertification each year you get SNAP to make sure your household is still eligible. If you do not return your information by the deadline on the form, you may lose your benefits.
Your mid-certification will happen halfway through your benefit period. You will get a form in the mail that you will need to complete and return to the Family Support Division.
Around the end of your SNAP benefit period, you will get a recertification form in the mail. You will need to complete this form, return it to the Family Support Division, and complete an interview to continue getting SNAP benefits.
NOTE: It is important that you report any changes to your contact information, including your address, so you will get these important letters in the mail. If you do not respond to mail from the FSD, you could lose your benefit.
You May Like: Local Food Stamp Office Phone Number
Work Program Participation Is Suspended
Following federal guidance, work program participation for Nutrition and Cash Assistance recipients is temporarily suspended while the COVID-19 pandemic continues to affect employment opportunities. The DES website is not the main source of information for Tribal TANF work requirements. Tribal TANF work requirements have been suspended, please contact your Tribal TANF program for more information.
Other Things To Consider
How to Get More Food Stamps Every Month
Your food stamps are calculated based on the month that you apply for benefits. If there is a month that you get paid 3 times in the month they will count this amount as your regular income although this wont happen again for the year. Consider applying in a month where you only get paid twice per month to ensure you get the maximum benefit.
If your income is above the gross income limit and you are disabled you may only get the minimum amount typically $15 per month. You qualify for food stamps based on your disability, but your disability income is above the gross income which is why you only receive $15 per month.
If you have questions about your food stamps try visiting the office for answers. You can try getting an answer by phone, but the first person you speak to at these offices may not be the best source of information. Your case manager at the office can provide you with the most accurate information.
I created this article because of the countless number of clients who question why they are receiving only $15 a month for food stamps. While everyones situation is different the criteria for calculating monthly food stamp amounts is the same.
To give yourself the best chance to receive the maximum monthly amount of food stamps it is important to know the rules.
Understanding the Food Stamp Algorithm, who is in your household, what deductions you qualify for and how to recalculate your benefits can help to increase your amount of monthly food stamps.
Don't Miss: Beaumont Food Stamp Office
Know Your Household Size Do Not Skip This Section
In the previous section, you learned what the maximum monthly food stamp payments were for your household size. Now I want to show you how to determine who is in your household.
You would think that anyone who lives in your home is considered part of your household, but this is not necessarily the case. To count as someone to include in your household BOTH of the following must be true:
The individual must live in the same home. AND
You must share and prepare food with them.
Again both of these must be true to consider someone as part of your household.
Here are two scenarios to help you better understand how you determine the members of your household.
Can Felons Get Food Stamps
If you are a convicted felon or know someone who is, then you are probably highly aware of how difficult it can be for felons to obtain good paying jobs after release from prison. In some cases the felons situation becomes so dire that they need to seek out financial aid or assistance.
This is perfectly normal in fact, it is the reason certain social welfare programs exist in the first place, to lend a helping hand to those who need a boost getting back on their feet. One such program, of course, is commonly known as food stamps or SNAP So this in depth article is designed to answer the question, can felons get food stamps?
Recommended Reading: Food Stamp Office Conroe Tx
This Is The Mathematical Equation They Use To Determine Your Food Stamps Award
The food stamps office uses a mathematical equation to determine exactly how much money you will receive in food stamps. The first step to getting more food stamps is learning how this math works!
Step One: Find your gross income.
The first step is to identify your gross income. Gross income is what you earn before any deductions or taxes are taken out.
Step Two: Calculate your net income
Your net income is what remains after expenses and deductions. In order to calculate your net income, the food stamps office will subtract your eligible expenses and any deductions that you claim. Well talk more about deductions in just a bit.
Step Three: Identify the familys expected contribution.
Since SNAP rules expect families to contribute 30% of their remaining net income toward food expenses, the agency will calculate 30% of the final income determined in Step Four. If you have no remaining net income, your contribution will be $0.
Step Four: Determine the monthly food stamps amount.
In order to determine how much money youll receive in food stamps, take the maximum allotment for your family size and deduct your familys expected contribution. If its $0, then youll receive the maximum allotment.
There Are Three Things You Can Do Right Now To Get More Food Stamps
There are several basic mistakes that people make when they apply for food stamps. Some people include extra people in their household and get penalized for reporting their roommates rent. Others fail to report income changes. Far and away, though, the most common mistake is not taking advantage of the deductions that are available to you.
Read Also: Lexington Ky Food Stamp Office
The Emergency Food Assistance Program
What is TEFAP?
TEFAP is a federal nutrition assistance program that helps supplement the diets of low-income Ohioans by providing food at no cost to them. This food is distributed through many of Ohio's food pantries, soup kitchens and shelters.
Who is eligible to get TEFAP food?
You are eligible to receive food from TEFAP if your total household income is below 200 percent of the federal poverty guidelines.
Where can I apply?
Find the distribution location nearest you . This map will help you find the food bank responsible for your area, and the food bank will then direct you to the nearest food pantry, soup kitchen or shelter. You must sign a statement certifying your income at the food pantry.
Heres What To Do If You Think Youre Eligible For More Food Stamps
You need to contact your caseworker immediately! Start by calling or visiting your local government agency that administers food stamps. You can ask to have your food stamps amount recalculated at any time, so you could start getting more food stamps right away!
About Nicole Thelin
Have too much month at the end of your money? Me too – and that's how Low Income Relief got started.
I have over 20 years of professional research and writing experience. Over the years, I've worked as a novelist, journalist, ghostwriter and content creator. My work has been featured in various print and online publications, including USA Today, eHow.com, Livestrong.com, Legal Beagle, The Daily Herald , The Chronicle and others.
At Low Income Relief, I use my professional research and reporting experience to help low income families save money and make ends meet. It's been my full-time job since 2016, and it's truly an honor to serve you.
Don't Miss: Food Stamp Office In Garland Texas
What Can I Buy With Food Assistance Benefits
You can use your benefits to buy most food products. Prohibited items include alcoholic beverages tobacco vitamins and/or medicines hot food products that are made to be eaten immediately and non-food items . You are not allowed to sell or trade food assistance benefits, buy non-food items with your benefits, or use your benefits to buy food for someone who is not a member of your household.
One Email A Day Could Help You Save Thousands
You CAN Get Cash Back from Food Stamps. It's Easy & Legal!
Tips and tricks from the experts delivered straight to your inbox that could help you save thousands of dollars. Sign up now for free access to our Personal Finance Boot Camp.
By submitting your email address, you consent to us sending you money tips along with products and services that we think might interest you. You can unsubscribe at any time. Please read our Privacy Statement and Terms & Conditions.
Read Also: Apply For Food Stamps In Oklahoma City